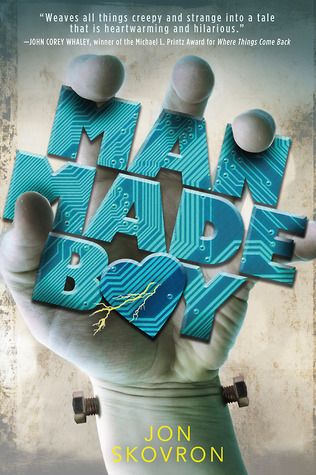 August 2014
Man Made Boy
Jon Skovron
Boy knows that he looks like a monster—he's a hulking assembly of sewn-together parts, the son of Frankenstein's monster and the Bride. He's lived his whole life so far within the confines of an off-Broadway theater off of Times Square that acts as a haven for all the monsters, ghouls, faeries, trolls, and mythological and otherworldly creatures. But what protects them from the outside world also keeps them isolated, and Boy, an insanely talented hacker, is tired of the internet being his only connection to the unknown world outside. So he starts finding ways to venture out and attempt to blend in, to see if there's a place for people like him in the world, and to see if he can convince people that he's not the monster he looks like to them, when he knows he's so much more.

Jon Skovron has crafted a great book with a thumping pulse, a funny bone, a big heart, and a lot of nerve!
You can watch the book trailer here.
And a video of Jon Skovron getting the cover art as a tattoo here. (We think this is very interesting and cool. Don't see authors doing this everyday!)
Check out his website here: jonskovron.com
And when we asked him to tell us some of his favorite books to pass on to you, he did something that HAS NEVER BEEN DONE IN THE HISTORY OF GUYS READ—he got his sons Logan and Zane involved, and they all did it together. Click here to see what they came up with.