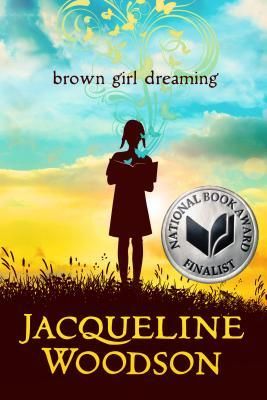 November 2014
Brown Girl Dreaming
Jacqueline Woodson
This week we celebrate the 2014 National Book Award winner and finalists in the catergory of Young People's Literature.
We're thrilled for all the authors of these phenomenal books, each and every title (as well as the authors' other works) are truly some of the best in the world, books that open minds.
And we are proud that both the winner, Jacqueline Woodson, and finalist Steve Sheinkin are both contributors to the Guys Read library, Woodson in Volume 3: The Sports Page, and Sheinkin in the most recent Volume 5: True Stories.
The winner:
In her author's note for her masterpiece—a must for any child who dreams, regardless of gender—Woodson writes, "I am often asked if I had a hard life growing up. I think my life was very complicated and very rich. Looking back on it, I think my life was at once ordinary and amazing." Woodson certainly captures both the ordinary and the amazing in this memoir in verse that pulls you right into it's pages, into the moods of a room in a childhood home, or riding on the handlebars of a bicycle, or riding the bus with her grandmother in the very-fresh post Jim Crow South, observing the riders who still ride the back, and the ones who stake their claim at any open seat.
Through her Jehovah's Witness Grandmother, her Grandfather who believes in a God less harsh, and her Uncle who converts to being a Muslim after time in prison, she tries to make sense of how all these different beliefs can add up. Through history unfolding before her eyes, and Angela Davis, the Black Panthers, and others who see how the world can be, her social conscience awakens. Through these experiences and many others both far-reaching and intimate, beautifully rendered in this memoir-in-verse, young Woodson finds and feeds the writer she knows she is, and it is a stunning example and reminder of all the words and worlds in each of us.
And the finalists:
Threatened by Eliot Schrefer (for a list of some of Schrefer's favorite books, click here.)
The Port Chicago 50: Disaster, Mutiny, and the Fight for Civil Rights by Steve Sheinkin
Noggin by John Corey Whaley
Revolution by Deborah Wiles
(for our entries of these books, click on the titles)