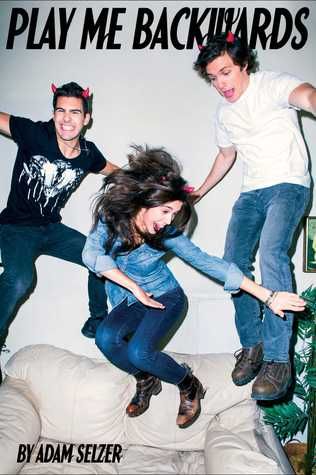 October 2014
Play Me Backwards
Adam Selzer
In grade school Leon was a part of the "gifted kids" group, a haven for all the weirdos and eccentrics who didn't really fit into (or want to fit into) other groups at school. They would make "art films," stage protests, outsmart teachers, and in general cause minor chaos on a regular basis. Also part of the group was Anna, who made Leon want to be a smarter, better person. He was basically in love with her. Then her family moved to London.

It's four years later. When he hears that Anna might be moving back to Iowa, it not only drives him nuts wondering what could have been and maybe could still be, it makes him take a dead-on look at who he's become. And he doesn't like what he sees. He's become a complete underachiever. It just kind of happened. One day you're hanging out in the back room of your easy-as-pie job, with your friends talking all manner of crude and rude things - the next thing you know, you've been doing that for years, and had just kind of figured you'd continue doing it. A senior, Leon hasn't thought much about college, let alone take the SATs or anything - he just figured he'd maybe go to community college, or not, whatever.

His best friend, Stan, who somewhat convincingly has claimed to be Satan since grade school, gives Leon a series of tasks and pieces of advice to help him maybe find some direction in life again. Above all else, he is to listen to the Moby Dick audiobook in his car, and find the elusive White Grape Slushee.

Unbelievably, these offbeat cues seem to work in an askance kind of way. After learning that Anna probably won't be moving back, Leon finds himself dating the kind of girl he never thought he'd be into - a girl who orbits but doesn't exactly fit in the popular crowd, kind of like he orbits the freak crowd but isn't exactly one himself. Before he knows it, he's in a full-blown relationship with her. And that's when things get really real, and really weird.

Selzer has one of the most authentic suburban Midwest confused everyman voices. This book is real, honest, and hilarious.

Definitely for 14 & up.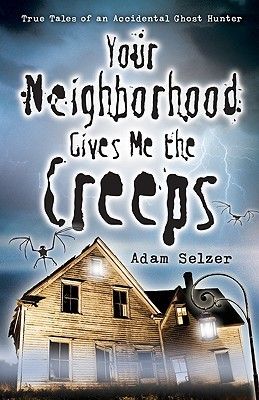 Your Neighborhood Gives Me the Creeps
True Tales of an Accidental Ghost Hunter
Adam Selzer
One of the things that makes Adam Selzer one of our favorites over here at Guys Read is that besides being a celebrated author he is also…a ghost hunter. A real deal, honest-to-goodness hunter of ghosts. And this book tells you all about that part of his life. Drawing on all of his multi-faceted experiences as a ghost tour guide, as well as a historian (check out his GREAT Smart Aleck book and ebooks for a humorous and lively look at history), and enthusiast and collector of ghost stories for years, he brings us this honest, humorous, and accessible look at all things spooky. And, if YOU YOURSELF are interested in being a ghost hunter, the book is full of some guide rules and tips.
Here's a link to the book's website that has excerpts, more information, and even pictures from some of the ghost hunts!: http://neighborhoodcreeps.blogspot.com
Hello everybody! Just in time for Children's Book Week (which you can find more info about here, for events in your area) we're updating the site with new content, and you can expect a steady stream of it from now on. We've been working to come up with a new strategy, and this is the start of it. Today we've got a new Book of the Month and Book on the Pile, as well as the first of many exciting new personalized favorite reading lists from some of your favorite authors, starting out with Eliot Schrefer, acclaimed author of Endangered and Threatened!
And we're expanding our social media—we'd love it if you'd join us on facebook and twitter to keep up with our regular content updates, help spread the word about great books for guys, and maybe even share your favorites!
Posted by Jon on Tuesday, May 13, 2014